The First Sunday in Lent – March 5, 2017
Last Sunday, we stood on the mountain of the Transfiguration, looking ahead to the light of Easter.  This Sunday, we are standing with Jesus in the desert, looking ahead to Pentecost…
But why Pentecost?  It's still three months away!  
On Pentecost we'll remember how the Holy Spirit came to Jesus' disciples. There they were, gathered in the upper room, waiting as Jesus had told them to do.  But they felt abandoned and they were afraid.  They were afraid that Jesus was never coming back.  But suddenly the Spirit came upon each of them –  reassuring them that Jesus was still with them, and giving them courage for the future. (see Acts 2:1-4)
Did you think that they remembered Pentecost because it was such an exciting spiritual experience?  I don't think so –  they remembered it because they knew that Jesus, the man they had known so well, was now present through the Spirit.  The Holy Spirit has Jesus' personality, which points constantly to a compassionate and loving God.  (In the New Testament, the Holy Spirit is even called "the Spirit of Jesus". See Acts 16:7)  
That Spirit would now work through the disciples, by pointing the way forward.  Even today, the same Spirit who pulled Jesus into the desert, who filled the disciples with courage,  is pulling us into the future.
The God of Relationship
The God of Relationship, the God of compassion is also the God of Becoming, the God of dynamic change, who is calling us to become  co-creators of the future.
Can we  – you and I – really help create the future?   On Maundy Thursday we'll remember the Last Supper, when Jesus began to tell his disciples about the coming Spirit. And he said to the disciples (who didn't believe it any more than we can believe it about ourselves), "Because of the Spirit, you will do greater things than I…"  (see John 14:12)
How the magnet works: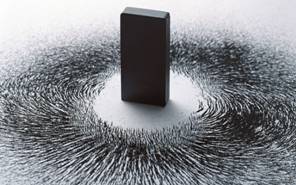 In his book, The God of Becoming and Relationship, Rabbi Bradley Artson tries to explain how prayer works.  He remembers when he was a very little boy, playing in the field behind his house.  He'd take his magnet out in his pocket, sit down on the ground and begin to run his magnet through the dirt.  All the bits of iron, that were resting in the soil, unseen by human eyes, began to cling to the magnet.  The magnet took on a "tail" of filings, each of which was being oriented internally to the pull of the magnet.
For Rabbi Artson, this is what happens whenever we pray: God is pulling us forward, the Spirit is shaping us internally, and we are being pointed towards God.  Process Theology calls this pull the "lure" –  God calling us forward, into acts of love, compassion, and justice.
Lures in the desert:
Fish swimming in a river look up and see food floating above them.  But not all the "lures" above them are actually healthy food.  Some of the "lures" have been cast there by fishermen, hoping to catch their own dinner.
The Spirit "lured" Jesus into the desert.  We might even say, as Mark's Gospel tells us, that the Spirit "drove" – or even propelled – Jesus.  That's the same Spirit that came to the disciples on Pentecost!  (See Mark 1:12). 
But there were other "lures".  the Tempter also "lured" Jesus in the desert, with offers of bread to satisfy his hunger, political power over the world, and spiritual power that would draw all eyes to him.
How did Jesus resist the Tempter?  His life had already been shaped by the faith passed on to him by his parents, by his village synagogue, and by his reading of Scripture.  Notice how Jesus responds to each of the Tempter's offerings: he quotes Scripture:
We do not live by bread alone, but by every word that comes from the mouth of God.  (Deuteronomy 8:3)
Do not put the Lord your God to the test. (Deuteronomy 6:16)
Worship the Lord your God, and serve only God. (Deuteronomy 6:13)
Now, in addition to his faith and his Scriptures, Jesus is also being guided by the Spirit, who takes him to the desert to show him the direction God has for him.
With faith, Scripture, Spirit, Jesus knew the direction towards God – and he knew when he was being "lured" in the wrong direction.
There are lures all around us:  We are called forward by God, and we are also tempted –  how will we know which "lure" to choose?   We need the "magnet" – to be lured, pulled, and shaped by the Spirit
So many choices, so many "lures"

Do you know about the "lures"on your smart phone?  First, make sure that your screen – with all its attractive "apps" –  is on; and make sure that your sound is off!
Then look at all those choices before you:
You could play Solitaire…
You could look at Facebook…
You could text a friend…
You could surf the net…
You could turn on your timer to see how long this sermon is going to last….
Or, tomorrow morning around 5 a.m., you could use your cell phone to send out your latest "tweet" – so all the world will be talking about you, and glory and honor will abound for you all day long.
Did you know you have a compass on your phone?

Find your compass…
Now find "North"….
Now imagine that "North" points you to Jesus…
Now imagine that this "app" will lead you through Lent and all the way to Pentecost.
There are "lures" all around us
Last night I was explaining this wonderful sermon illustration to my husband Rob, who was looking at me with that look I've known for more than 60 years – which says, "You're off base, but I'm too polite to say so."
But humoring me, Rob looked at his compass – and suddenly he found that his "North" wasn't pointing in exactly the same direction as my "North."  Now he was interested –  depending on where he was standing in the room, "North" was swinging back and forth.
What was going on?
Whenever Rob came near something metal the compass wavered.  And when he came near the iron étagère, his compass really started swinging…. And he finally told me, "Well, cell phone compasses are notoriously unreliable!"
Rob's right – a cell phone compass is not the most reliable way to find "North", and we couldn't use a cell phone compass in a desert where there's no service.
Fortunately, we don't need modern technology to walk the Way of Jesus – we only need what Jesus had:
the scriptures,
a faith community,
and the Holy Spirit, the Spirit of Jesus.
3