Reading the Introduction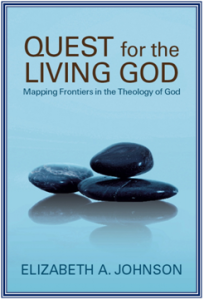 Quest for the Living God:
Mapping Frontiers in the Theology of God
by Dr. Elizabeth Johnson
Published 2007 by Continuum Books
(1) Thinking about God:  Each chapter in this book reflects on images and ideas about God – aspects of the Divine Mystery that the Christian tradition may have forgotten or overlooked.
 (2) Contextual theologies:  The theologies rise out of the life experience of various peoples – Europeans and Asians,  African-Americans, Latinos, and women.  These theologies also arise from new insights from modern science, social sciences and humanities, as well as from Christian scripture and tradition.
(3) The Living God – The book's title, Quest for the Living God,  uses a Biblical phrase, the 'Living God' to describe the God who is "full of energy and spirit, alive with designs for liberation and healing, always approaching from the future to do something new.  In addition, the term 'living God' evokes the realization that there is always more to divine Mystery than human beings can nail down."
Reflecting on the reading:
As children and young people, most of us learned our 'theology' (although that word probably wasn't used) from clergy and religion teachers, who passed on to us what the Scriptures and Christian tradition hold to be true. What would we have learned if our pastors and teachers had started not with the tradition but with questions:
How have you experienced the Holy in your own life? 
What have your experiences taught you about God?