VISIO DIVINA: 'Holy Reading' Using a Work of Art
Lectio Divina, an ancient monastic practice, is a meditative way of reading Scripture.
Visio Divina is another way of holy 'reading', opening up God's message through art.
PRACTICING 'VISIO DIVINA'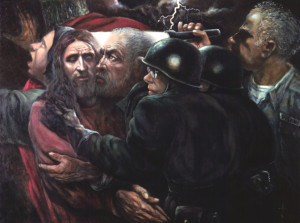 'The Taking of JC' by Joseph Pisani
Lectio: Read the picture slowly and quietly. Give it time to open up in you.
Meditatio: Reflect upon what the picture is saying to you – and what you want to talk
to God about – because of what the picture suggests or represents.
Oratio: Respond by writing down what has entered your spirit. Now circle a word or phrase from what you have written.
Contemplatio: Rest with your word or phrase, allowing the Holy Spirit's wisdom to speak to your spirit.
TWO POEMS FOR CONTINUING REFLECTION
#1. Gaze again at the picture of Judas kissing Jesus, as though the scene were occurring in front of you. In his book "The Heart Aroused" by David Whyte (pp. 259-260),
a Native American elder speaks about waking up to save one's self:
LOST
Stand still. The trees ahead and bushes beside you
Are not lost. Wherever you are is called Here,
And you must treat it as a powerful stranger.
Must ask permission to know it and be known.
The forest breathes. Listen. It answers.
I have made this place around you.
If you leave it you may come back again, saying Here.
No two trees are the same to Raven.
No two branches are the same to Wren.
If what a tree or a bush does is lost on you,
You are surely lost. Stand still. The forest knows
Where you are. You must let it find you.
#2. Gaze once again at the picture of Judas kissing Jesus, as though the scene were occurring in front of you. In her book "Thirst" (p. 69), poet Mary Oliver offers us another way to see. How do we search for our own unknown goodness?
THIRST
Another morning and I wake with thirst
for the goodness I do not have. I walk
out to the pond and all the way God has
given us such beautiful lessons. Oh Lord,
I was never a quick scholar but sulked
and hunched over my books past the
hour and the bell; grant me in your
mercy, a little more time. Love for the
earth and love for you are having such a
long conversation in my heart. Who
knows what will finally happen or
where I will be sent, yet already I have
given a great many things away, expecting
to be told to pack nothing, except the
prayers which, with this thirst, I am
slowly learning.
Can you share something of your experience with these meditations on the blog?