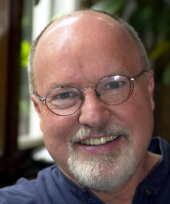 Franciscan priest Richard Rohr
Richard Rohr is the founder of the Center for Action and Contemplation in Albuquerque,
New Mexico.  He is the author of numerous books, including Things Hidden: Scripture as Spirituality.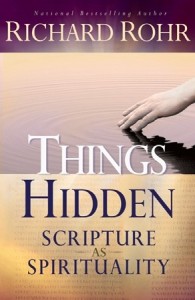 Richard Rohr introduces Things Hidden by writing:
The Bible can be confusing because it records a very human history of our struggles with faith and doubt.  But since it continues to give us amazing new revelations from the Spirit, we need to sift through it to find what really matters.
The goal of Things Hidden is not to teach us 'what the Bible says'
but to help us grow in our own relationship with God.
Things Hidden will help us see: 
The Bible's primary themes: Who is God? and Who are we?
The development of very human characters, from Abraham to Jeremiah to Paul.
The earthly ministry of Jesus, and the meaning of our encounter with him.
The God who is always with us: the deepest  meaning of Emmanuel.
In the next post, Introduction: Connecting the Dots, you can read Rohr's own introduction to Things Hidden: Scripture as Spirituality.