The Hollister Institute invites you to join us in January as we discuss
Richard Rohr's Things Hidden: Scripture as Spirituality. 

You can read and reflect on-line with us here at faithmatters and/or
participate through our discussion group on Thursday mornings
at St. Benedict's, Los Osos (from 10am – noon).
Discussions begin January 14 and conclude March 17.
Email donnaross@charter.net 
• to register for the Thursday discussion group and/or
• to receive notification when new posts go up
* To purchase your copy of Things Hidden, see below.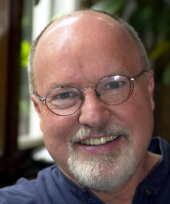 Franciscan priest Richard Rohr
is the founder of the Center for Action and Contemplation in Albuquerque,
New Mexico.  He is the author of numerous books, including
Falling Upward: Spirituality for the Two Halves of Life (2011);
The Naked Now: Learning to See as the Mystics See (2009); and
Things Hidden: Scripture as Spirituality (2008).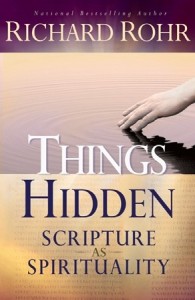 Richard Rohr introduces Things Hidden by writing:
The Bible can be confusing because it records a very human history of our struggles with faith and doubt.  But since it continues to give us amazing new revelations from the Spirit, we need to sift through it to find what really matters.
Things Hidden will help us see: 
The Bible's primary themes: Who is God? and Who are we?
The development of very human characters, from Abraham to Jeremiah to Paul.
The earthly ministry of Jesus, and the meaning of our encounter with him.
The God who is always with us: the deepest  meaning of Emmanuel.
The goal of Things Hidden is not to teach us 'what the Bible says'
but to help us grow in our own relationship with God:

Consider what Rohr says about prayer:  "I am increasingly convinced that the word prayer, which has become a functional and pious thing for believers to do, is, in fact, a descriptor for inner experience. We will understand prayer and inner experience this way throughout this book."  (see Things Hidden, p. 5)

* Order your own copy of Things Hidden
from your local bookstore…
from Amazon at   http://www.amazon.com/Things-Hidden-Scripture-as-Spirituality/dp/0867166592/ref=sr_1_1?s=books&ie=UTF8&qid=1440287112&sr=1-1&keywords=richard+rohr+things+hidden
In the next post, Introduction: Connecting the Dots,
you can read Rohr's introduction to Things Hidden.