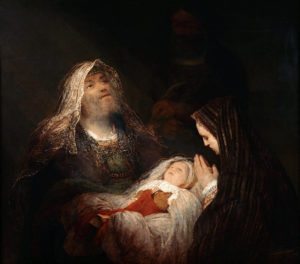 Simeon's Song of Praise
Aert de Gelder, c. 1700
Luke 2:21-32
Eight days later, the time came to circumcise the baby, and he was given the name Jesus, the name given by the angel before he was conceived.
Then, after their purification had been completed in accordance with the Law of Moses, they brought him up to Jerusalem to present him to the Lord (as prescribed in the law of the Lord, "Every first-born male shall be deemed to belong to the Lord"); and also to make the offering as stated in the law of the Lord: "A pair of turtle doves or two young pigeons."
There was at that time Jerusalem a man called Simeon.  This man was upright and devout, one who watched and waited for the restoration of Israel, and the Holy Spirit was upon him.  It had been disclosed to him by the Holy Spirit that he would not see death until he had seen the Lord's Messiah.  Guided by the Spirit he came into the temple; and when the parents brought in the child Jesus to do for him what was customary under the Law, Simeon took him in his arms, praised God, and said:
Lord, you now have set your servant free
to go in peace as you have promised;
for these eyes of mine have seen the Savior,
whom you have prepared for all the world to see:
A light to enlighten the nations,
and the glory of your people Israel.
What was the meaning of the turtle-doves? *