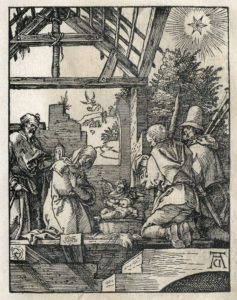 Adoration of the Shepherds
Albrecht Dürer, c. 1510
Luke 2:8-20
Now in this same district there were shepherds out in the fields, keeping watch through the night over their flock, when suddenly there stood before them an angel of the Lord, and the splendor of the Lord shone round them.  They were terror-struck, but the angel said, "Do not be afraid; I have good news for you; there is great joy coming to the whole people.  Today in the city of David a deliverer has been born to you — the Lord's Messiah. And this is your sign: you will find a baby lying all wrapped up, in a manger."
All at once there was with the angel a great company of the heavenly host, singing the praises of God:
Glory to God in highest heaven,
And on earth peace for those on whom God's favor rests.
After the angels had left them and gone into heaven, the shepherds said to one another, "Come, we must go straight to Bethlehem and see this thing that has happened, which the Lord has made known to us."  So they went with all speed and found their way to Mary and Joseph; and the baby was lying in the manger.  When they saw him, they recounted what they had been told about this child; and all who heard were astonished at what the shepherds said.  But Mary treasured up all these things and pondered over them.
Meanwhile the shepherds returned glorifying and praising God for what they had heard and seen; it had all happened as they had been told.
Shepherds:  Who were these shepherds? *
Thoughts: on being poor — Donna Ross
Once again, Luke tells us that angels appear to announce that God is at work in the world. But once again, the "Christmas story" has become so familiar that we may not have heard its full meaning. How does "news" — any kind of news — get to the poorest people in this world? And what is "good" news for people who are desperately poor?
* Shepherds
* Shepherds, while dear to us from Christmas stories and pageants, had no social standing in ancient Israel.  They were always very poor, and they were also considered "unclean" — not just dirty from caring for sheep, but "unclean" in the ritual sense; because they had neither the time nor the money to purify themselves properly, they were unable to participate in religious ceremonies.