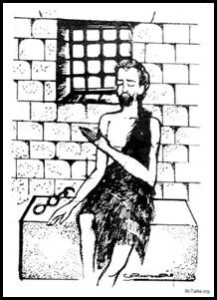 St. John the Baptist in Prison, by Fahmy Eshak (Palestinian)
Seventy years ago this morning, the great pastor and theologian Dietrich Bonhoeffer had already been sitting in Hitler's prison for eight long months.   Bonhoeffer was a founding member of the Confessing Church in Germany, which emerged when the Nazis took control of the German Protestant Church.
Neatly dressed, elegantly literate, warmly pastoral, Bonhoeffer would seem to have been the opposite of John the Baptist, but Bonhoeffer also stood firmly against a vicious regime and its religious collaborators.
Even in prison, Bonhoeffer was still a pastor to the other prisoners, and connected to the outside world as well.  Over the two years he spent in prison before his execution, sympathetic guards helped to smuggle his letters to the world outside.  In one letter Bonhoeffer wrote,
A prison cell, in which one waits, hopes – and is completely dependent on the fact that the door of freedom has to be opened from the outside – is not a bad picture of Advent. * 
How can our Advent become a door to freedom?