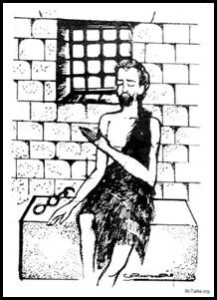 St. John the Baptist in Prison, by Fahmy Eshak (Palestinian)
Seventy years ago this morning, the great pastor and theologian Dietrich Bonhoeffer had already been sitting in Hitler's prison for eight long months.   Bonhoeffer was a founding member of the Confessing Church in Germany, which emerged when the Nazis took control of the German Protestant Church.
Neatly dressed, elegantly literate, warmly pastoral, Bonhoeffer would seem to have been the opposite of John the Baptist, but Bonhoeffer also stood firmly against a vicious regime and its religious collaborators.
Even in prison, Bonhoeffer was still a pastor to the other prisoners, and connected to the outside world as well.  Over the two years he spent in prison before his execution, sympathetic guards helped to smuggle his letters to the world outside.  In one letter Bonhoeffer wrote,
A prison cell, in which one waits, hopes – and is completely dependent on the fact that the door of freedom has to be opened from the outside – is not a bad picture of Advent. * 
How can our Advent become a door to freedom?
Today's Gospel remembers John the Baptist, sitting in Herod's prison: 

When John heard in prison what the Messiah was doing, he sent word by his disciples and said to him, "Are you the one who is to come, or are we to wait for another?"   (Matthew 11:2)
Gone was the preacher shouting of fire and brimstone, and the enormous crowds were a distant memory.  Now captive in Herod's prison, John was much less sure of himself.  When he got word that Jesus was not trying to overthrow the Romans, not trying to overwhelm them with divine fire as he had expected, John began to doubt.
In the darkness of his cell John doubted his mission; he began to wonder not only about his own personal fate, but if the profound changes he had predicted would ever come.  So John reached out beyond his walls, sending people to Jesus to ask him, "Are you the one?"  Notice that Jesus did not rebuke John  for his doubts.  Instead, he sent the messengers right back to John, to tell him what they have seen and heard:  The blind receive their sight, the lame walk, the lepers are cleansed, the deaf hear, the dead are raised, and the poor have good news brought to them. (Jesus was quoting Isaiah.)
Jesus seems to be saying that the kingdom is coming – but not in the way that John had originally expected.  Perhaps it was a brand new idea for John: the kingdom coming not in a cataclysm, not in fire and brimstone, but slowly, slowly:
The kingdom will come as it spreads among us,
as it links us together,
as each of us remembers that we are not alone,
as each of us remembers that we are called to care for one another.
In the kingdom, we are not alone even in prison – because we have God in Christ;
and because we have one another, all of us are linked to the love of God in Christ.
Nadia Bolz-Weber, a Lutheran pastor in Colorado, writes,
The individualism in our culture has convinced us that faith is something we must possess in sufficient quantity as individuals, when in fact faith has always been a team sport.  When Jesus said "Where two or more are gathered I am with you," I don't think it meant that he needs a guaranteed minimum audience before showing up.  I think it means that we bear Christ to one another.  That we hold the faith on one another's behalf. That faith is never given in sufficient quantity to individuals – but it is given in sufficient quantity to the community. **
And so John the Baptist, in the loneliness of his prison, reaches out to Jesus for help, asking, "Are you the one who is come?"  And Jesus, through the community, reaches back to John.
Here are the hard questions that life in prison raises – whether the prison is Herod's or Hitler's, our own illnesses or aging, the poverty or prejudice we ourselves experience or still see all around in this world:
Am I alone?   Is my greatest doubt that I will survive, or have I actually begun to doubt that justice will ever come?    Am I really alone, if – like Jesus himself – I can realize that I may die, but the blind will receive their sight, the lame will walk, the lepers will be cleansed, the poor will have good news brought to them?
Over the centuries, millions have believed in God – but their faith was in a God of their own making.  And, when that God did not come to rescue them from their own distress, they lost their faith that God exists at all.  But Jesus' God lives in everyone and for everyone – the blind, the death, the lame, the poor – and Jesus' God not only links us all to one another, but to the God who will prevail in the fullness of time, through our efforts and through the power of God's Spirit.
I know that Dietrich Bonhoeffer believed this.  And, even through the dim shadows of the Bible's limited information, I am sure that John the Baptist came to believe it, too.
Mandela in Apartheid's prison
All this week we have remembered another man thrown into the oppressors' prison – Nelson Mandela, held captive for 27 years of his life.  How did Mandela do it?    He could have lived in the prison of anger…  the prison of fear… the prison of doubt and disbelief.   But he did not.
Mandela's life's work was to unite people across race, gender and even religion.  Ultimately, his faith, like everything else about him, pointed to the greatest theme of his life: reconciliation. In a rare public reference to his personal faith, he said: "The good news was borne by our risen Messiah, who chose not one race, who chose not one country, who chose not one language,  who chose not one tribe, who chose all of humankind." ***
Nelson Mandela was raised and schooled as a Methodist, an experience he recalled fondly in his autobiography, Long Walk to Freedom.   At a religious conference in 1999, he said: "Without the church, without religious institutions, I would never have been here today … Religion was one of the motivating factors in everything we did."  But Mandela rarely spoke publicly about his own faith for fear of dividing or – even worse – using religion as a political tool, as the apartheid regime – just like Nazi Germany – had  tried to do.
"The apartheid policy was supported by the Dutch Reformed Church, which furnished apartheid with its religious underpinnings by suggesting that Afrikaners were God's chosen people and that blacks were a subservient species," he wrote in his autobiography. "In the Afrikaner's world view, apartheid and the church went hand in hand."  Mandela was committed to an interfaith and a multiracial movement for a free South Africa, and he did not want to be seen as partisan.
Bonhoeffer in Hitler's prison
Writing before he was imprisoned, Bonhoeffer argued that Christians should never retreat from the world, but should boldly act within it.  Writing in prison, he continued to insist that the church, like every individual Christian, "had to share in the sufferings of God."   Having witnessed the complete failure of the German Protestant church to stand up to the Nazis, he saw the Confessing Church – with members drawn from across the denominational spectrum – as an opportunity for the renewal for Christianity.
Bonhoeffer lost his life in prison.  But his life as a man – a man who actually lived what he preached – had great influence on Christians across the world and through time.  We can hear echoes of Bonhoeffer's life in the life and writings of Martin Luther King, Jr. and in the American Civil Rights Movement; we can hear echoes of Bonhoeffer in the life and work of the anti-communist leaders of Eastern Europe during the Cold War; and we hear echoes in the anti-Apartheid movement of South Africa.
Bonhoeffer was killed by Hitler's men.  John the Baptist was killed by Herod's men.  Martin Luther King, Jr. was assassinated.  Only Nelson Mandela was released from his prison to continue his material work for the kingdom.  But each of them, and all of them, contributed – and are still contributing – to the growth of the kingdom of God.
Remembering Bonhoeffer's letter from prison, here are some words that can give us courage this Advent:
If God can create from a Word…
If God can speak and it is made real…
If the Word of God can be made flesh and dwell among us…
If God's Word can do all of this,
then God's Word can also open our prisons of doubt and despair.
What prisons do we need to be freed from this Advent?
Preached at St. Benedict's Episcopal Church, Los Osos
on Sunday, December 15, 2013
*          Letters & Papers From Prison, by Dietrich Bonhoeffer.  English translation published in 1970 by SCM Press.
**        This Advent, Embrace a Doubting Faith, by Nadia Bolz-Weber  http://sojo.net/blogs/2010/12/22/advent-embrace-doubting-faith
***      Speech by Nelson Mandela at Zionist Christian Church Easter Conference, 1994  
http://.sahistory.org.za/article/speech-nelson-mandela-zionist-christian-church-easter-conference-0
****    Long Walk to Freedom, by Nelson Mandela. Published in 1994 by Little Brown & Co.