God Who Breaks Chains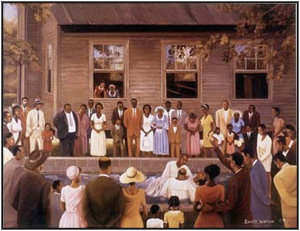 Ernest Watson – 'In the Name of the Father'
(1) The context:  This chapter looks at racism, giving a brief history of Africans in America, and their new interpretations of Christianity, expressed through African spiritual traditions. "The God who breaks chains" is at the center of Black theology.
(2) The kernel: Their masters presented Christianity as a religion of law and order, but when slaves heard the Bible's stories, they learned that Jesus sets people free and that God liberates the oppressed. This understanding gave them courage to struggle for freedom.
(3)  The idea of God:  Shaped by stories of the Exodus and Jesus' Cross and Resurrection, Black religion has sometimes led to passive acceptance of suffering, but at other times to join the struggle for freedom.
(4) Negro spirituals:  The "God who breaks chains" is reflected in music, which helped make sense of suffering, conveyed the idea that freedom is coming, and coded slaves' resistance to dehumanization.
(5) Black liberation theology:  A systematic Black theology has now developed. This theological tradition teaches that God always takes the side of those who suffer, and that God is never color-blind.  To image God as black, and Jesus as black, enables African-Americans to celebrate God's image in their own blackness.
(6) Womanist survival theology:  Womanist is defined as "having a belief in and respect for women and their talents and abilities beyond the boundaries of race and class." There is a bias against black women even within the black church (which is historically very patriarchal). The story of Hagar (Abraham's servant) demonstrates that God is both liberator and sustainer in the wilderness, depending on the circumstances.
(7) A sharper focus:  It is difficult for many black women to image God as Lord (as a powerful ruler) or Christ as a male. Images of domination are rejected by womanists; for obvious historical reasons, they do not see themselves as servants of Christ but disciples of Christ – called, sent and equipped by God for ministry.
(8) Praxis of racial justice:  White colonialism affected people of color in the Americas, South Africa, and Australia.  In all these contexts today, people are proclaiming a different God from the one who came with the conquerors.