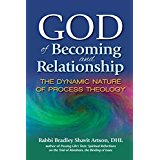 Reading chapter 5
What is evil?
In Process Thought, much of what we understand to be evil is seen as the very source of dynamism and life: events that are disasters for some are sources of emerging novelty and development for others.
So the process of evolution is driven precisely by a tension between limits, on the one hand, and possibilities, on the other.  We cannot have one without the other.
Process theology offers two possible understandings of evil; both face the tragic nature of evil directly and affirm the innocence of those who suffer.
One Process approach addresses suffering and evil as that aspect of reality not yet touched by God's lure, or that part of creation that ignores God's lure.
Another Process approach acknowledges that much of what we term evil or suffering is a matter of perspective.  And so the medieval Jewish philosopher Maimonides writes,
"Every ignoramus….imagines that all that is exists with a view to his individual sake; it is as if there were nothing that exists except him.  And if something happens to him that is contrary to what he wishes, he makes the trenchant judgment that all that exists is an evil. (Guide of the Perplexed, see p. 169)
Most human suffering is not divine punishment or test, but the result of three broad realities of life. 
The nature of being human:  It is the nature of material reality to come into being, to grow and flourish for a time, and to then fall apart prior to going out of existence.  The only alternative, a world of static eternity, is one that few of us would choose.  (More importantly, we don't have that choice.) Dynamism, hence suffering and death, is built into the very nature and logic of materiality. Thus Maimonides says:
"The first type of evil is that which befalls people because of the nature of coming-to-be and passing-away."
Tyrannical domination: It is also possible to understand large swaths of suffering and evil as the result of the abuse of power. And so Maimonides says:
"The evils of the second kind are those that people inflict upon one another, such as tyrannical domination of some over others."
We suffer the consequences of our own behavior: Our freedom to make poor choices also means that we inflict harm on ourselves whenever we can't (or don't) heed the divine lure.  Maimonides again:
 "The evils of the third kind are those that are inflicted upon any individual among us by his own action."
Process Theology opens our eyes to a view of God as relational and loving. 
The dynamic, ephemeral nature of becoming, the competing lures that tempt us and distract us from God's lure, and the consequences of our choices on others and ourselves – these are all sources of suffering and evil.  Process Theology allows us to recognize their sources within the natural world, and not as the judgment or punishment of the Divine.   In turn, this realization allows us to continue to perceive God as our ally and source of strength in times of tribulation.
Do not fear, for I have redeemed you; I have called you by name, you are mine.  When you pass through the waters, I will be with you; and through the rivers, they shall not overwhelm you; when you walk through fire you shall not be burned, and the flame shall not consume you.  For I am the LORD your God… (Isaiah 43:1-3f)                   
"I am with you, declares the Holy One" (Haggai 1:13)
Artson writes,  God is our ally and source of strength in times of tribulation…. God is relational and loving, working in, with, and through us to bring order to the chaos of our lives and societies, giving us the strength and insight to know how to struggle for health, connection, and justice.  (p. 33)
When you have you found God to be your source of strength?
What favorite texts help you in times of tribulation? 
Moving beyond thinking to action
Understanding God as the pervasive creativity and novelty that permeates all-becoming invites us to stop thinking about the status of evil and to focus instead on how we work  for justice, well-being, and compassion.
Evil and suffering are not intriguing theological puzzles but existential goads, calling us to repair the world.  This shift from intellectual justification to action has ancient precedent.  The Rabbis perceive God as preferring righteous behavior to correct belief.  …. If we are part of creation, and if we also have the ability to align ourselves with the divine lure, then evil is a summons for us to implement justice, which is resolute love.  (see p. 34)
What is "tikkun olam"?
Tikkun olam (Hebrew for "world repair") has come to connote social action and the pursuit of social justice.
To learn more, go to http://www.myjewishlearning.com/article/tikkun-olam-repairing-the-world/