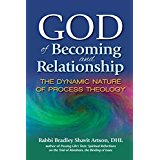 Reading chapter 7
As it was in the beginning, so it shall be in the end.
In chapter 4, "Continuous Creation",  we looked at two plausible scientific/mythic explanations for the existence of our cosmos:  the Big Bang and eternal inflation.
Now, in "Death and Afterlife", we seek yet again to peek behind the curtain.   Process Theology joins Jewish tradition in offering two plausible paradigms.
Death and patterns of energy
A Process perspective on death and afterlife affirms the same speculative metaphysics as all Process insight: we generally think of ourselves as substances, but we are actually organized patterns of energy.
A Process perspective also allows us to formulate a plausible understanding of life in the coming world: we are not substances now in life, and we will not be substances after life ends.  We are patterns of energy now, and it is reasonable to believe that we will continue as patterns of energy in God's eternity.
Afterlife and the many possibilities
Judaism posits belief in eternal life; but, beyond affirming faith in some form of continuing existence, Jewish wisdom is remarkably open.  Judaism has used terms such as Garden of Eden, Paradise, Hell – as well as olam ha-ba ( the coming world), resurrection, reincarnation, end of days – but has never defined these terms with precision.
From a Process perspective, once our lives are finished and done we will continue to exist – as we have lived – on multiple levels.
One possibility is that death will mark the end of our individual consciousness. Our energy patterns will continue unabated, but there will  be no governing central organization, no self-reflective awareness that continues beyond death.  We may go to sleep as discreet individuals and awaken as the totality of the cosmos.
A second possibility builds on the first, adding the plausible hope that our consciousness and identity will continue unimpaired.  As God is process, and as God is the One who is supremely connected to everything, supremely related, and forgetting nothing, we may remain eternally alive in God's memory, in God's thought – which, it turns out, is what we have been all along.  (p. 58-59)