VISIO DIVINA
'Holy  Reading' Using a Work of Art *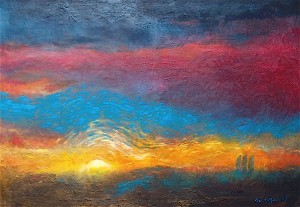 Luke 24:13-35
(The Road to Emmaus, by Daniel Bonnell)
Lectio Divina, an ancient monastic practice, is a meditative way of reading Scripture.  Visio Divina is another way of holy 'reading', opening up God's message through art.

Practicing 'Visio Divina'
Lectio:  Read  the picture slowly and quietly. Give it time to open up in you.
Meditatio:  Reflect   upon what the picture is saying to you – and what you want to talk to God about – because of what the picture suggests or represents.
Oratio:  Respond   by writing down what has entered your spirit.  Now circle a word or phrase from what you have written.
Contemplatio:  Rest  with your word or phrase, allowing the Holy Spirit's wisdom to speak to your spirit.
*  Adapted from Rita King, "Praying with Icons and Images: Visio Divina"