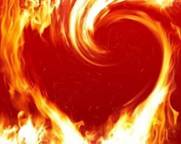 Baptized with fire, Luke 3: 16
Luke 3:15-20
The people were on tiptoe of expectation, all wondering about John, whether perhaps he was the Messiah. But he spoke out and said to them all, "I baptize you with water; but there is one to come who is mightier than I. I am not fit to unfasten his shoes. He will baptize you with the Holy Spirit and with fire. His shovel is ready in his hand, to winnow his threshing-floor and gather the wheat into his granary; but he will burn the chaff on a fire that can never go out."
In this and in many other ways John made his appeal to the people and announced the good news. But Prince Herod, when he was rebuked by John over the affair of his brother's wife Herodias and for his other misdeeds, added to them all by shutting John up in prison.
Fire: What did John mean by "fire"?
Thoughts on seeing the whole picture – Donna Ross
John stands in the waters of the Jordan River, but instead of pointing to the flowing waters he evokes images of fire.
What is someone, standing undecided on the river bank, to think of these images? There is the fire of judgment, an image of eternal damnation as widespread in our own time as it was in John's. There is the fire of engagement, which points us in new directions and empowers us to see in new ways.
If we see only one of these images, we will miss the whole picture.
Fire:
John uses two contrasting images of fire — the destructive fire of judgment: "He will burn the chaff on a fire that can never go out" (Luke 3:17); and the empowering fire of the Holy Spirit: "He will baptize you with the Holy Spirit and with fire (3:16).
In just a few years, Jesus' disciples would experience the empowering fire of the Spirit. Luke writes in the second volume of his story: "When the day of Pentecost had come, they were all together in one place. And suddenly from heaven there came a sound like the rush of a violent wind, and it filled the entire house where they were sitting. Divided tongues, as of fire, appeared among them, and a tongue rested on each of them. All of them were filled with the Holy Spirit and began to speak in other languages, as the Spirit gave them ability." (see Acts 2:1-4)