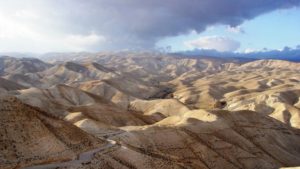 In the Judaean wilderness
Luke 4:1-13
Full of the Holy Spirit, Jesus returned from the Jordan, and for forty days was led by the Spirit up and down the wilderness and tempted by the devil.
All that time he had nothing to eat, and at the end of it he was famished. The devil said to him, "If you are the Son of God, tell this stone to become bread." Jesus answered, "Scripture says, "One cannot live on bread alone."
Next the devil led him up and showed him in a flash all the kingdoms of the world. "All this dominion I will give to you," he said, "and the glory that goes with it; for it has been put in my hands and I can give it to anyone I choose." Jesus answered, "Scripture says, 'You shall do homage to the Lord your God and worship him alone.'"
The devil took him to Jerusalem and set him on the parapet of the temple. "If you are the Son of God," he said, "throw yourself down, for Scripture says, 'He will give his angels orders to take care of you,' and again, 'They will support you in their arms, for fear you should strike your foot against a stone.'"
Jesus answered him, "It has been said, 'You are not to test the Lord your God.'" So, having come to the end of all his temptations, the devil departed, biding his time.
Parapet: Where was the parapet of the temple?
Thoughts: on testing a new vision
Did you ever have an experience that made you stop in your tracks – to think about what happened to you, to try to understand what it meant? When Jesus was baptized in the Jordan River, he heard a voice telling him, "You are my beloved Son." The voice Jesus heard was so important to him that he retreated into the wilderness to pray.
After Jesus' days in the wilderness, he was hungry, thirsty, and delirious. And then he heard another voice, this one tempting him, saying: If you are the Son of God…. But Jesus held firm to the voice he had heard at his baptism: God loved him, God was pleased with him, and God had a mission for him.
You are my beloved child. Could you live your life according to this vision?
* Parapet:
A parapet is a low, protective wall along the edge of a bridge or a roof. When Herod expanded the Temple, someone standing at the parapet would be able to see the whole city of Jerusalem. From that parapet, a priest would blow a trumpet announcing the beginning and end of the Sabbath, and the sound of the trumpet would be heard throughout the city. Is the parapet where the tempter sees Jesus standing, poised to demonstrate his spiritual power?