The great vision of St. John the Divine (Revelation 7:9-17):
After this I, John, looked, and there was a great multitude that no one could count, from every nation, from all tribes and peoples and languages, standing before the throne and before the Lamb, robed in white, with palm branches in their hands. They cried out in a loud voice, saying, Salvation belongs to our God who is seated on the throne, and to the Lamb!"   And all the angels stood around the throne and around the elders and the four living creatures, and they fell on their faces before the throne and worshiped God, singing, "Amen! Blessing and glory and wisdom and thanksgiving and honor and power and might be to our God forever and ever! Amen."   Then one of the elders addressed me, saying, "Who are these, robed in white, and where have they come from?"
Who are these, robed in white, and where have they come from?
In Christian history, the word 'saint' has had many meanings. Today the traditional church recognizes only special people as 'saints': churches are named in their honor (as St. Benedict's has been named after the great monastic); the saints' relics are kept on and under the altars of great cathedrals; and prayers of hope are addressed to the saints, because of their great deeds and their miraculous healings.
But to the first Christians, a 'saint' was anyone who had dedicated his or her life to God in Christ.
We can see this in Paul's letters to the new little churches of the Mediterranean world. His earliest letter was written to the Christians in Thessalonika.  Sometime after 50 AD, they sent a messenger to Paul with a troubling question. Some members of their church, faithful followers of Christ, had already died. When Jesus returned in all his glory, what would happen to these beloved who had already died? Were they lost forever?
Writing back to the Thessalonians, Paul painted a beautiful picture, a picture of Christ bringing their loved ones back to them, as he himself returned:
May the Lord make you increase and abound in love for one another and for all, just as we abound in love for you. And may he so strengthen your hearts in holiness that you may be blameless before our God and Father at the coming of our Lord Jesus with all his saints. (1 Thess. 3:13)
(What a different vision this is of Christ's second coming – not the 'rapture' where God separates the saved from the damned, but a great final gathering into the arms of a loving God!)
Ordinary Christians
To Paul, the 'saints' were ordinary people, Christians struggling to follow Christ, just like you and me. The hymn we just sung has it right: "the saints of God are just folk like us, and there's not any reason, no, not the least, whey we shouldn't be saints too."
And so Paul writes to the Romans, calling them 'Saints, God's beloved in Rome…'
(Romans 1:7)
And to the Corinthians, he says they also are 'Called to be saints, together with all those who in every place call on the name of our Lord Jesus Christ…'
(1 Corinthians 1:2)
The Ephesians are 'the saints who are in Ephesus and are faithful in Christ Jesus…' (Ephesians 1:2)
The Philippians, saints in Christ Jesus who are in Philippi…'
(Philippians 1:1)
The Colossians, 'saints and faithful brothers and sisters in Christ…'
(Colossians 1:2)
At its root, the word 'saint' means to be consecrated, to be set aside for a specific purpose. For Paul, for the writer of Revelation (whose vision depicts the saints clothed in white robes and surrounding the throne of God), for the first Christians, a saint was any faithful Christian who was trying to follow Jesus.
It is this commitment to follow Jesus that makes an ordinary person a consecrated person, a person set aside for God's service, a saint.
Consecrated = 'set aside'?
Yet there is something in human beings that wants to set aside the holy, to make it special, to treat it differently than the people and objects of ordinary life. Christians need to remember the underlying meaning of Christ's presence in our world: the holy is found in the ordinary, and the ordinary can become holy.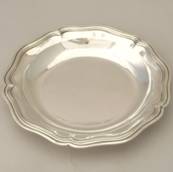 The special dish
When Rob and I were married back in the early sixties, we were given some lovely silver dishes by our extended family. On Sunday evenings and at each Thanksgiving and Christmas, those dishes were always on the dinner table.
Somehow, over the years, it became too much work to polish those dishes. A few weeks ago, cleaning out my kitchen cupboards, I found the dishes on a top shelf, perfectly polished and wrapped tightly in Saran wrap. There they were, waiting for a daughter or daughter-in-law to inherit someday – set aside for special use.
But these dishes were not made to sit on a shelf; they were created to serve. They are meant to be used.
And it's not just silver that shines. Ordinary things, ordinary people – all these can shine with the glory of God's presence. So the chances are that you have met a saint; the chances are that saints are here in this room today. The chances are that you, too, are a saint.
And those who have gone before us in the faith – they still serve God and are embraced in the communion of saints, as Paul told the Thessalonians so long ago.
In a few moments, the choir will sing a modern version of the ancient hymn, 'Lux Aeterna'. The Latin words can be translated thus: Eternal light shine upon them, O Lord, in the company of thy saints forever and ever, for thou art merciful. Rest eternal grant unto them, O Lord, and let perpetual light shine upon them.
The music for today's hymn was composed only three days after September 11, 2001. On that day, more than 3,000 people died. As you think of those who died on that day 13 years ago; and as you remember your own loved ones who died this year, remember Paul's words of comfort, and the vision of John the Divine:  Who are these, robed in white, and where have they come from?
To be a Christian, to be a saint, is not to be set high on a shelf for admiration and veneration. On September 11, 2001, the first responders – the firefighters and the police – did not think to 'stay on the shelf.' In their commitment to service, they went out to work for people who needed help.
That's the very definition of a saint.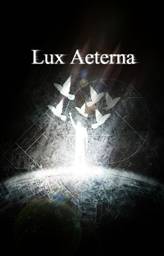 Sung by St. Benedict's Singers on All Saints' Sunday, November 2, 2014
Eternal light shine upon them, O Lord,
in the company of thy saints forever and ever,
for thou art merciful.
Rest eternal grant unto them, O Lord,
and let perpetual light shine upon them.
'Lux Aeterna' was composed by Braxton Blake on September 14, 2001