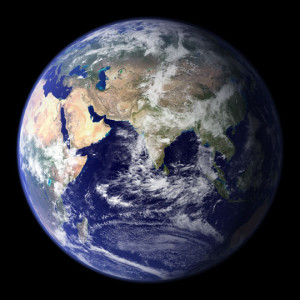 We have reached the middle of Elizabeth Johnson's Ask the Beasts: Darwin and the God of Love (chapter 5, 'The Dwelling Place of God'). Johnson begins by asking us:
What would 'a Christian theology of evolution' look like?
To describe how a Creator works with – and within – this universe, Johnson turns first to the Dominican priest and theologian, Herbert McCabe.  Born in 1926, McCabe studied chemistry and philosophy before he was ordained a Dominican priest; from then on he studied, taught and wrote about the works of Thomas Aquinas until his death in 2001.
McCabe gives us a helpful image of a Creator who "makes all things and keeps them in existence from moment to moment, not like a sculptor who makes a statue and leaves it alone, but… like a singer who keeps her song in existence at all times." (God, Christ, and Us, p. 103)
Johnson reminds us that classic theology spoke of creation in three senses:
• Original creation – In the beginning, the God of life creates the universe, and all its life forms. All living species receive life as a gift from their Creator, and exist in utter reliance on that gift. Without this gift of life, all things would sink back into nothingness.
• Continuing creation – As the universe moves through time, the ever-creating God continues to sustains all things. Since the ever-creating God is present always and everywhere, the world of life is itself the dwelling place of God.
• New creation – Source of endless possibilities, the ever-creating God will continue to draw the world into an unimaginable future. Christians view this future through the lens of Christ's promise: in the end, the Creation will not be abandoned, but transformed into new communion with God.
The world as the dwelling place of God:
The dominant image of God in our culture is still the all-powerful, distant super-being who started the world, rules it from on high, and occasionally intervenes in the world's life.
This image of God will not be helpful to us as we work to build a Christian theology which is in dialogue with modern science.
To develop an image of a God who works in an evolving world, we must come to see God as immanent as well as transcendent; we must image a God who not only embraces the world but dwells within it, sustaining it in every moment of its being and becoming.
This would be a God who, in Herbert McCabe's words, "makes all things and keeps them in existence from moment to moment, not like a sculptor who makes a statue and leaves it alone, but… like a singer who keeps her song in existence at all times."